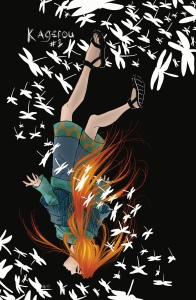 Kagerou Issue #1 - $6.50
ORDERING FOR KAGEROU #1 + FREE SKETCH IS NOW CLOSED. Regular copies of Kagerou #1 are available exclusively from our online storefront at IndyPlanet. They can do it way cheaper than we can, so the price is significantly lower now.

All remaining sketched edition orders will be shipped out chronologically by date of purchase, along with any studio items included with the sale. Sorry for the huge delay in shipping, I got way more orders than I ever expected, and sketching in them takes time. I estimate the last book should be finished by the end of March.

Still want a copy with a sketch? I'll be at Animazement, Akon and Anime Expo 2010 and I will be bringing copies with the blank sketch page. Woo!
---